Join Ground School for a summer internship of paid farm work and intensive hands-on education in regenerative agriculture.
Gathering Ground's summer internship program, Ground School, is for young adults aged 18 to 27 who are passionate about environmental stewardship.
Our 10 week program is a great fit for those interested in exploring: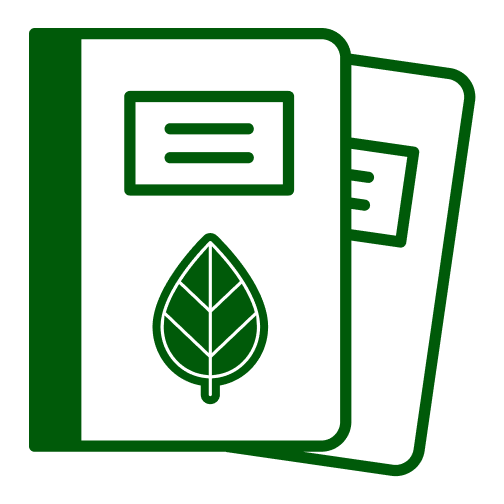 Communal & Ecological Living
Learn alongside peers, teachers and practitioners as we envision ways to live in greater harmony with the earth that sustains us.
Our weekly schedule includes:
1 full day of hands-on learning in Gathering Ground's vineyard, orchard and garden.
20-30 hours in a paid position with a local farm or land-based organization *
Farm dinners: cooking and sharing meals made from local, seasonal ingredients
Seminars on current topics related to food cultivation and environmental studies
Field trips to local land-based and water-based organizations and farms
Team building, mentorship, and community engagement
* Potential job sites on the Island include: honey farm, vegetable and flower farm, orchard and cidery, vineyard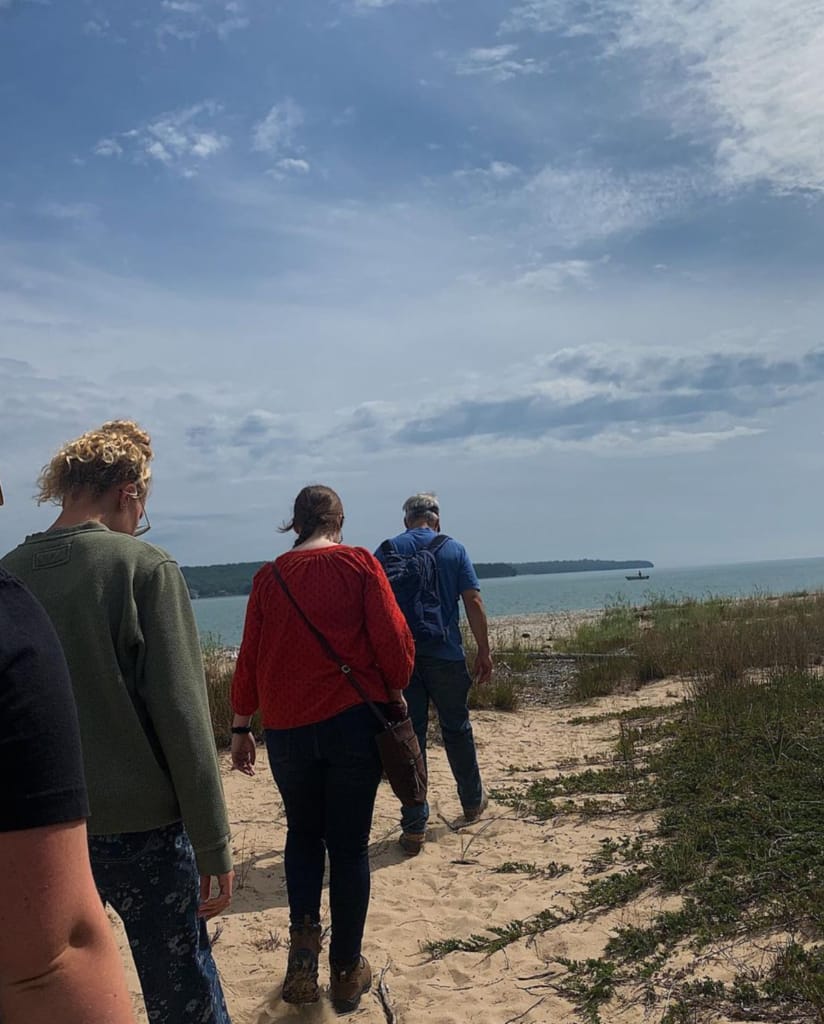 Course Overview
The internship consists of four primary components, each of which is meant to give students a taste of the knowledge and skills held in each.
Seminar
We read and discuss big topics. Agroecology, or the application of the ideas and principles of ecology to food systems, is the broad discipline we use to approach these big ideas. We will focus on cold climate grape-growing (viticulture); the farm as habitat for wildlife; community and cooperative approaches to agriculture; and the integration of trees and animals in cropping systems (agroforestry).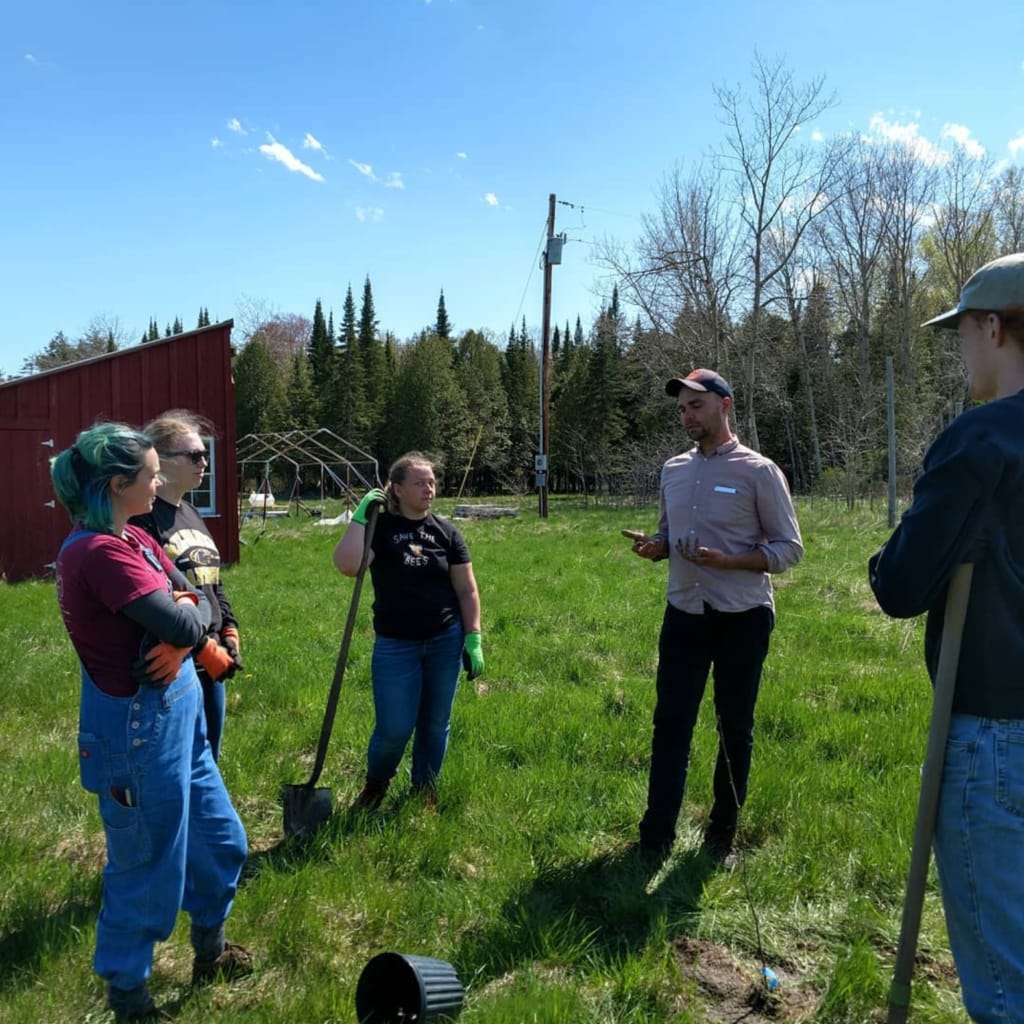 Hands-On Horticulture
We take time each work session to learn about the science and practice behind what we do on the farm in caring for our vines, trees, garden plants and sheep. We organize these lessons to explain the what, why and how behind the labor we do together. Then, with that knowledge in hand, we do the farmwork!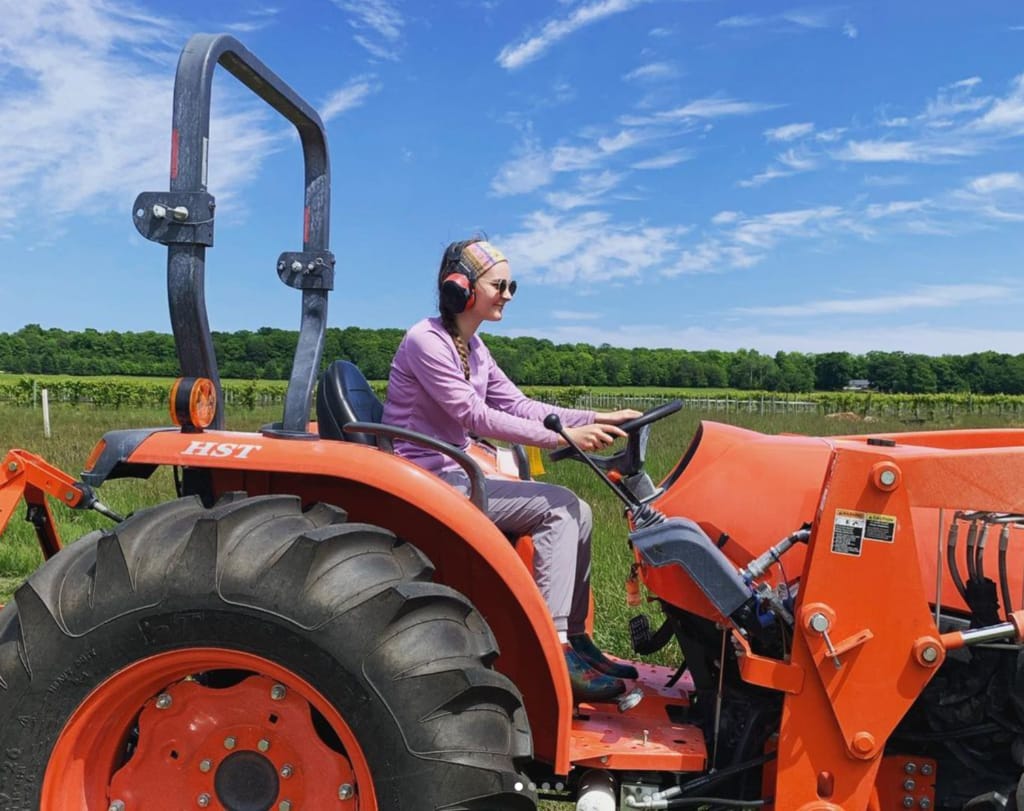 Farm Visits
We visit local farms to learn about the enormous variety of shapes that local agriculture can take. Students also have a paid opportunity to work at one of our partner farms on the Island during their stay. Our goal will be to learn about the nuts and bolts of the farm, but also the business components and all that goes into running a farm. We hope that these experiences bring to life what it's like to work on, own and operate a farm.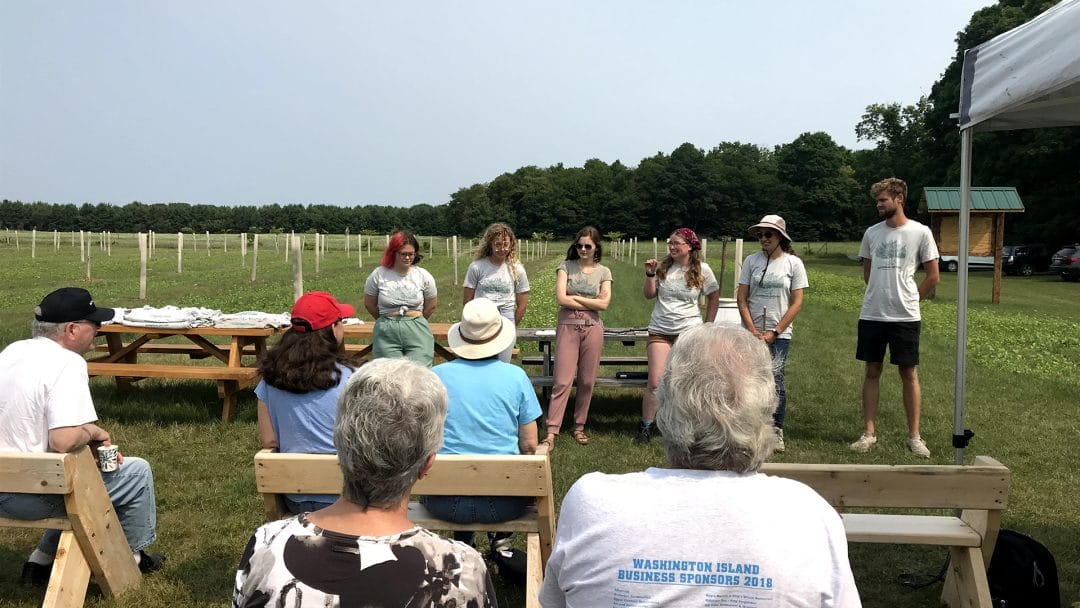 Presentations
At the end of the internship, students will have the opportunity to present what they've learned to the community. Intern presentations have included everything from seminars on haunted landscapes to live music performances.
Dates: The program is 10 weeks during the summer, from June through August. Specific dates will be announced during the enrollment period for each new internship cohort.
Credit: We will work with your university or college to help you get course credit.
Pay: We will connect students with a local farm or business. 
Cost: $350 covering curriculum, community meals, and field trip costs. Scholarships may be available. Please email us.
Housing: We are not able to provide housing options this year. Students will need to find their own accommodations. Please feel free to reach out with questions. 
"This internship sparked in me the fact that it is possible to combine my two interests of music and science. I always thought of them as very contrasting areas of study and now I am thinking about how I can combine them more and how they can help each other. Gathering Ground has re-ignited my passion for the Earth. This internship was just what I needed at this point in my college career."
Isabella Cisneros
Summer 2021 Intern
Isabella, who is majoring in Environmental Studies and Flute Performance, found a way to blend the two disciplines while at Gathering Ground. Learn more about Isabella's internship experience below.
"Everything that's happening with Gathering Ground is really exciting, but what's most exciting to me is that it's happening here. In my experience growing up on the island, it was easy to feel that I would have no choice but to leave in order to find any sort of opportunity, but for me Gathering Ground changed this narrative. It helped me realize that even in a primarily seasonal tourist economy, we can create opportunity and resources here for the local community, and with those resources circulating we support and rely on each other a little more and the outside world a little less."
Sophia Hagen
Summer 2021 Intern
Sophia was born and raised on Washington Island, and was surprised and delighted to hear about Gathering Ground and the work we're doing with the community to revitalize sustainable agriculture. Learn more about Sophia's internship experience below.
"One day of the internship consisted of us traveling to take samples of soil from other farms and home gardens around the island. When you're digging down, taking the soil in your hands, and seeing the differences from place to place, it's hard to ignore that within that handful of soil is a robust community, teeming with lives that nourish our existence, even if they're so small that we can't see them with the naked eye. In holding the soils of different gardens on the island, I was able to see myself as part of the natural network, to imagine my life connected to the billions of microbes living in the soil I touched."
Emma Knickelbine
Summer 2021 Intern
Emma, who is getting her Master's in Literature and Cultural Theory, used her time at Gathering Ground to explore ecocriticism. Learn more about Emma's internship experience below.
"The farming and gardening gave me a newfound appreciation for the hard work that goes into cultivating food. I took with me a stronger passion for the environment and a stronger connection to those who care for it."
Alex Krantz
Summer 2020 Intern
Alex and his sister Izzy spent summers on Washington Island when they were growing up, so they were delighted to have a reason to come back and spend time on the farm. Learn more about Alex's internship experience below.
"One of my favorite parts of the internship was seeing the strong sense of community on the Island and how everyone is willing to lend a hand. The farmers' markets were a great opportunity to meet members of the community and see the produce and products that all come from the island."
Nathan Ochocinski
Summer 2018 Intern
Nathan is studying Biology and Sustainability Management, and was excited to learn more about viticulture during his time at Gathering Ground. Learn more about Nathan below.
The land is the real teacher. All we need as students is mindfulness.