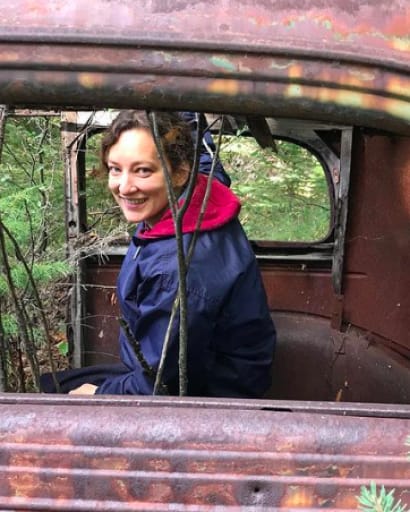 Alessandra Rolffs
Executive Director and Board Secretary
Alessandra Rolffs has her PhD in English, Creative Writing with an emphasis in ecoliterature. With her husband, she grows vegetables, herbs and cut flowers at Hoot Blossom Farm on Washington Island. Raised in California, Alessandra has lived in the midwest for more than a decade and yet, the changing seasons still surprise and delight her every year.
As Gathering Ground's first executive director, Alessandra is excited to be a part of Gathering Ground's growing educational and community programs. When she is not working in her garden or at Gathering Ground, you can find her throwing rocks into the lake with her two sons.
Russell Rolffs
Board President and Farm Manager
Russell was recovering from completing an MA in philosophy from the University of Chicago when he discovered that he needed to be outdoors more to feel fulfilled. He taught high school for over ten years. In addition to managing the farm at Gathering Ground, Russell runs Washington Island's Hoot Blossom Farm with his wife, Alessandra.
Russell is passionate about growing good food and pondering how humans can live within the ecological bounds of the earth.
Jeannie Kokes
Board Treasurer, Owner of Hotel Washington
Jeannie Kokes combines two loves as a founding board member of Gathering Ground: her deep connection with our environment and a passion for volunteer service. In her earlier years, she directed a nonprofit organization of over 300 volunteers supporting parents in crisis. Later as a clinical psychologist with a private practice in Chicago, she taught and supported sustainable practices in communication between people. Like emeritus board member Sue Dompke, a friend and fellow widow, she initiated a wholly different career about seven years ago when she purchased Hotel Washington. With a team of kindred spirits, she created a space to reconnect people with nature, themselves and each other. Gathering Ground is another way to connect to the Island community by supporting a land ethic and practices that balance preservation with progress for generations to come.
Margaret Foss
Board Member, K-12 Educator and Instructional Coach at Washington Island School
Margaret became a full-time, year-round island resident 40 years ago, when she married Kirby, a life-long islander.  Together, Margaret and Kirby raised their daughter Lydia on the island, where Margaret taught in various capacities. Margaret is especially devoted to Gathering Ground because of its commitment to education and partnership with the Washington Island School. Now, with grandchildren also growing up here, she looks to maintain and grow the island's long history of strong ties to preserving its beauty and bounty.  Margaret is proud to be a member of an organization dedicated to sustainable practices, intended to simultaneously protect and utilize what these beautiful lands offer, while continually studying, learning, and disseminating knowledge to the entire community.  She hopes this work will benefit the island's people, lands, and waters for many generations.
Mike Davis
Board Member, Agronomist and Farmer
Dr. Mike Davis, a biologist, agronomist, and farmer, developed his passion for nature and agriculture at his grandparents' farm in Windsor, Connecticut. Mike and his family started Birchwood Farms-CT in 1974 in vegetable production, and now grow Christmas trees and small grains.  He attended and conducted research at the University of Connecticut (B.S.), Purdue University (M.S.), University of Nebraska (Ph.D.), and University of Wisconsin (Postdoctoral).  Mike went on to a 38 year career leading the American Malting Barley Association.  Its mission is to encourage and support sustainable malting barley production.  Mike and Susan Buchanan launched Birchwood Farms-WI in sustainable vegetable and grain production, when they bought their farm on the Island.  Crops for wildlife are also grown, along with a native grass and flower prairie, intermingled with meadows and woods to provide diverse ecosystems. 
Karen Yancey
Board Member, Land Trust Executive
Karen Yancey is a conservationist and journalist. She is the executive director of the Geneva Lake Conservancy, spearheading the protection of almost 1,000 acres of land. Under her leadership, the organization earned the Wisconsin Land Trust of the Year award in 2020. She served for 16 years on the Door County Land Trust board of directors and led its Washington Island Project Committee from 2000-2010. Ms. Yancey has also worked as a reporter for the Milwaukee Journal-Sentinel, Chicago Tribune and Gannett Wisconsin Media.  She currently serves as the President of the Washington Island Observer and as a member of the Washington Island Literary Festival Committee. She and her family have enjoyed spending summers at their Washington Island farmhouse for almost 30 years, where she loves to work in her garden, read on the front porch or kayak with her husband to Rock Island.
Zuzka Krueger
Board Member, Administrative Assistant at Washington Island School
Zuzka is a community member. She moved across the world from Slovakia in 2007 to be with her husband Kraig. She loves her family and living on Washington Island. She has been gardening all her life and continues to do so in her new home on Washington Island.
Zuzka's priority is the Island community and its sustainability.  She loves what this Island has to offer to young families. She hopes to make a difference, and to make this an even better place for everyone.
Casey Dahl
Board Member, Farmer
Casey Dahl is an experienced farmer and tree enthusiast, especially fond of chestnut and apple trees. A graduate of Michael Fields, he has been working with trees for more than 15 years in a variety of settings, including planting his own chestnut and hazelnut orchard, Feral Farm, in Southern Wisconsin. He works at Island Orchard Cider, managing their orchard on the Island.
Board Advisors and Directors Emeritus
"They say that the best time to plant a fruit tree is thirty years ago. Well, the second best time is now."
Russell Rolffs, President
A gift is extraordinary when its benefits may be felt for generations. In November 2016, Tim and Julie Lyons decided to donate their Washington Island vineyard to a local nonprofit. While the Lyons were searching for the right owner, six people connected with each other through their shared interest in Washington Island and sustainable living: Sue Dompke, Margaret Foss, Laurel Hauser, and Russell and Alessandra Rolffs.  With diverse backgrounds in education, entrepreneurship and land stewardship, they each brought a unique perspective to the conversation about agriculture and sustainability.
Russell and Alessandra Rolffs came to the Island in the summer of 2016 to work as gardeners for Hotel Washington and naturalists for the Art and Nature Center, and it was love at first sight. The couple had little practical farming knowledge, but they both harbored a deep passion for ecology and sustainability, and were intrigued by the idea of education centered around agriculture. Alessandra's PhD in English with an emphasis in ecoliterature had sparked an interest in the intersections between theory and practice. Russell was growing increasingly inspired watching the young students he tutored engage with the soil at Chicago's Windy City Harvest, where the couple volunteered.
They started talking to Sue Dompke, of Sweet Mountain Farm, and Jeannie Kokes, of Hotel Washington, about their long-term goal of starting an organization focused on agriculture and education. Laurel Hauser, managing editor of The Washington Island Observer, and Margaret Foss, an educator at the Island School, soon joined the discussions, and the momentum around Gathering Ground grew.
In June of 2017, Gathering Ground was officially granted 501(c)(3) status as a tax-exempt nonprofit, and the seeds were planted – both figuratively and literally – for the founders' vision to be brought to life.
"We decided on the name "Gathering Ground" because we want it to be a place where farmers, gardeners and the wider community gather to celebrate the land and how it sustains us."
Alessandra Rolffs, Executive Director
Today, our farm is a living testament to its founding dream, bringing the community together over a shared interest in a sustainable future. Our orchard, vineyard and community garden are host to:
• elementary and high school students planting chestnut and apple trees, as part of our ongoing partnership with the Island School
• young adults enrolled in our Ground School internship program, exploring the complexities of environmental theory and practice
• community members participating in our educational workshops and events
• local growers and artisans, vending at our weekly Farmers' Market
• visitors to the Island, eager to learn more about regenerative agriculture