Lasting change happens when we work together as a community.
We take a holistic, intergenerational approach, offering educational and community programs that focus on engaging everyone in the practice of learning how to be responsible stewards of the earth.
Island School Partnership
We partner with our local Washington Island School District to teach the next generation about sustainability through hands-on learning and planting in our vineyard, orchard and gardens.
Island School students have been hard at work on several exciting projects, both on the farm and on their adjacent campus.
Planting up a Storm
Island School students planted blueberry bushes in the North vineyard's soil, which has a high pH that is well suited to growing them.
They've also been busy planting chestnuts, apples and pears in our orchard, and will study their growth as part of their curriculum.
Grafting Lesson
Middle and high schoolers learned how to graft grape cuttings onto existing rootstock. The process involved inserting the cuttings, wrapping them in rubber bands to keep them in place, and wrapping parafilm around the cutting site to keep in the moisture.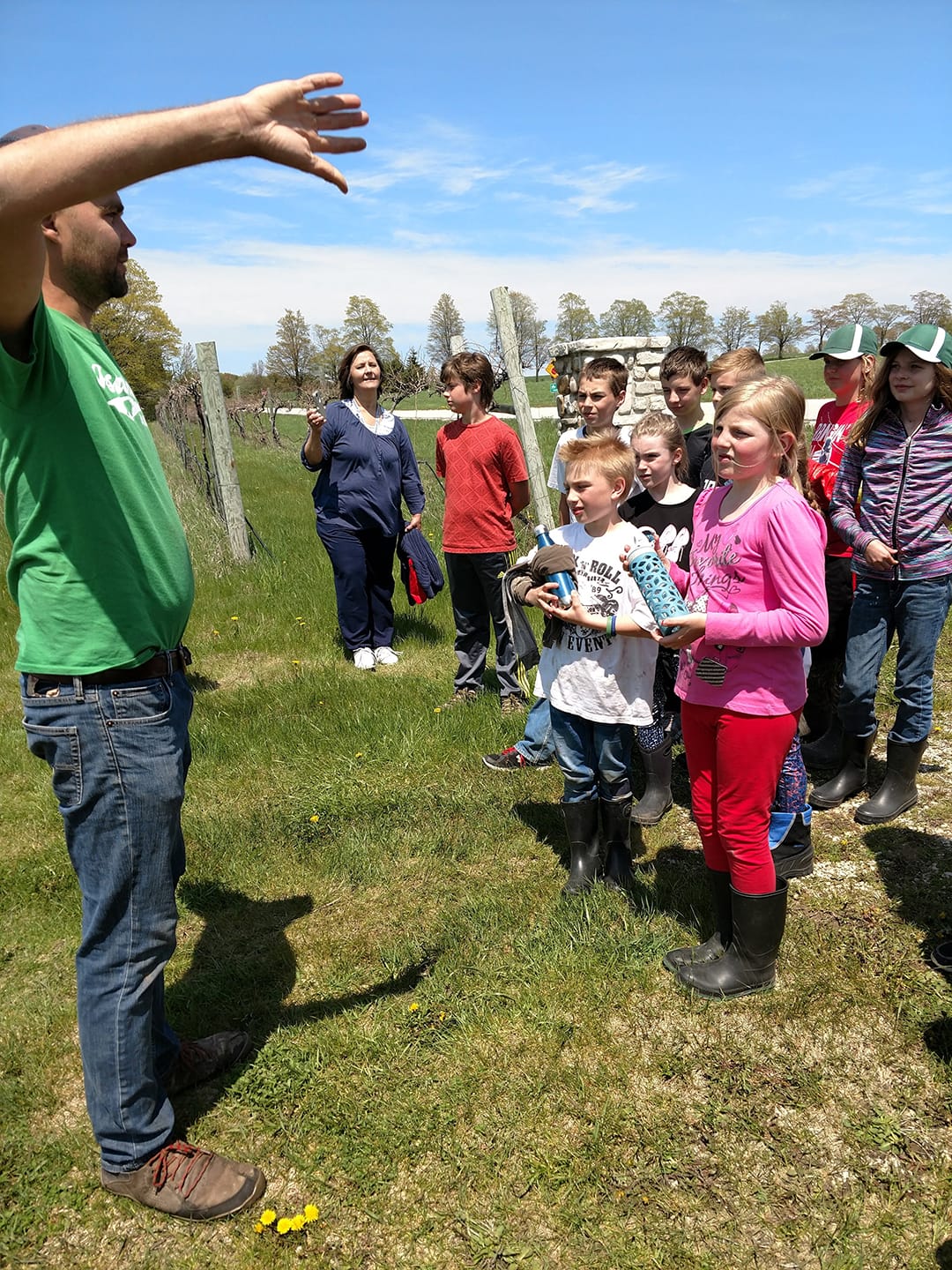 Ready, Set, Go!
Elementary school students helped us clean up the vineyard with a race to collect pruned branches from the vines.
Compost Class
Russell is teaching elementary schoolers how to compost, and they have set up a composting area on their campus.
Students will use the newly generated soil from their compost to nourish the vegetables they're growing in raised garden beds, donated by One Small Garden.
Forest Path
We've been working with students to create a forest path that connects their campus to Gathering Ground. The physical connection of the two properties will create easy access for the school to engage Gathering Ground's woodland and orchards, opening the door for lots of educational opportunities.
Read more about what the Island School students are up to on our blog:
We run Ground School, a 10 week summer internship program for young adults that encourages a deeper exploration of ecological theory and practice.
Course Overview
The internship consists of four primary components, each of which is meant to give students a taste of the knowledge and skills held in each.
Seminar
We read and discuss big topics. Agroecology, or the application of the ideas and principles of ecology to food systems, is the broad discipline we use to approach these big ideas. We will focus on cold climate grape-growing (viticulture); the farm as habitat for wildlife; community and cooperative approaches to agriculture; and the integration of trees and animals in cropping systems (agroforestry).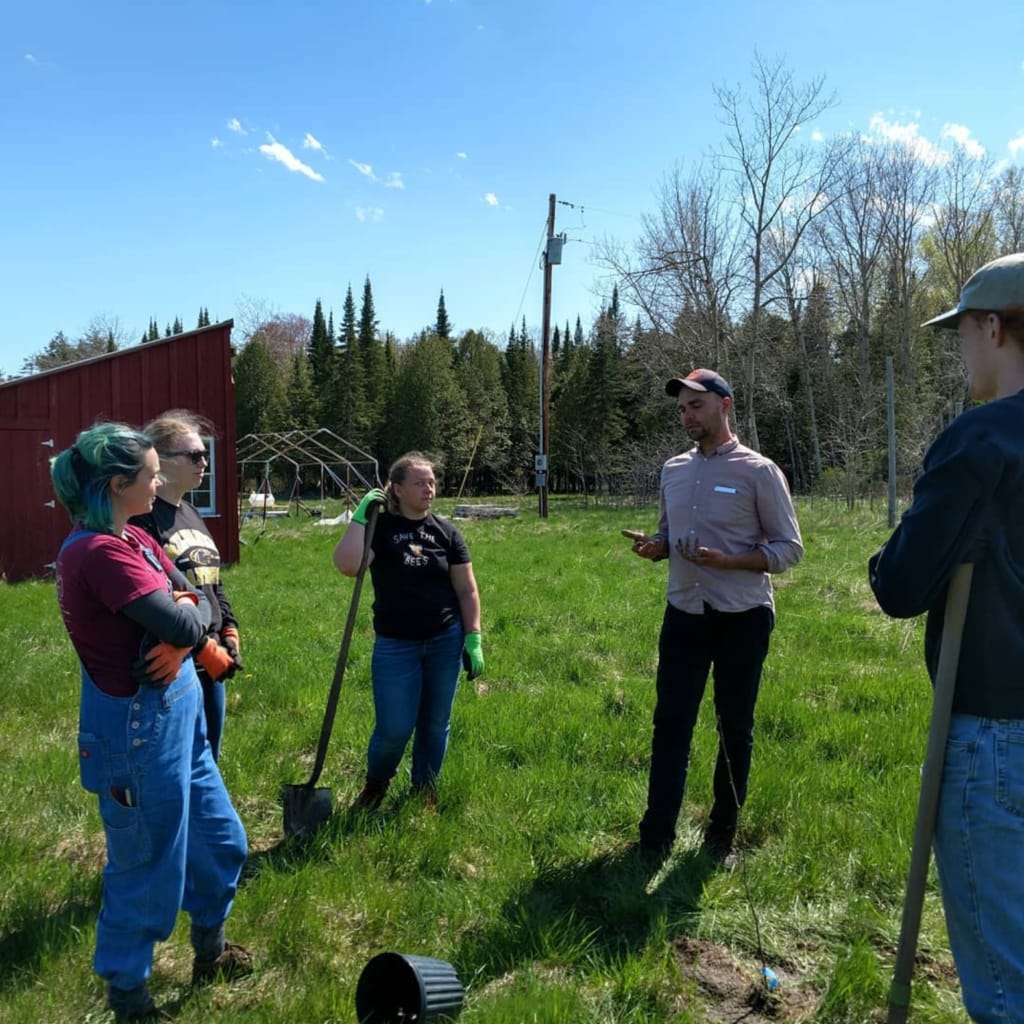 Hands-On Horticulture
We take time each work session to learn about the science and practice behind what we do on the farm in caring for our vines, trees, garden plants and sheep. We organize these lessons to explain the what, why and how behind the labor we do together. Then, with that knowledge in hand, we do the farmwork!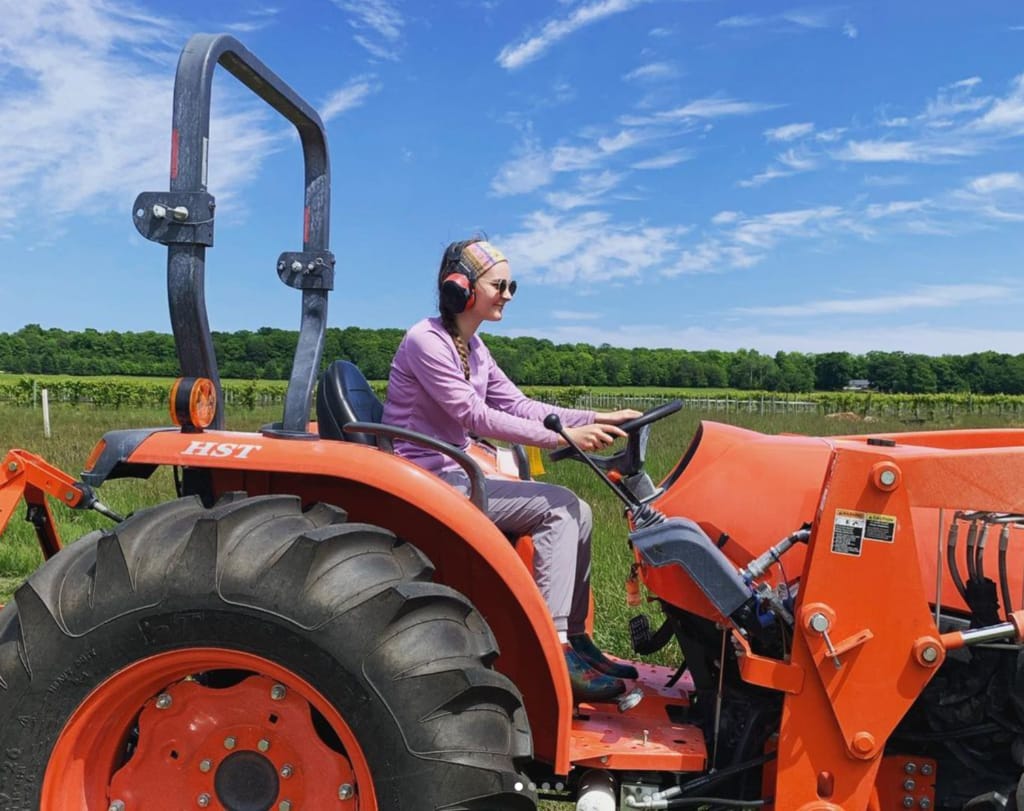 Farm Visits
We visit local farms to learn about the enormous variety of shapes that local agriculture can take. Students also have a paid opportunity to work at one of our partner farms on the Island during their stay. Our goal will be to learn about the nuts and bolts of the farm, but also the business components and all that goes into running a farm. We hope that these experiences bring to life what it's like to work on, own and operate a farm.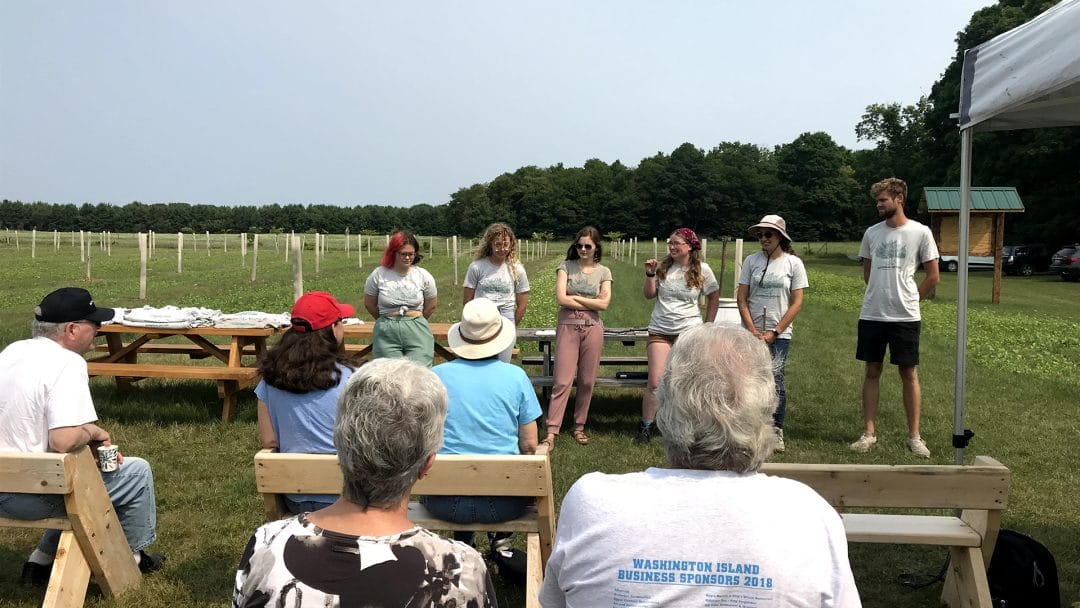 Presentations
At the end of the internship, students will have the opportunity to present what they've learned to the community. Intern presentations have included everything from seminars on haunted landscapes to live music performances.
Our 40 acre farm is the heart and soul of Gathering Ground. It's a living classroom, where students of all ages learn through hands-on engagement with the soil. It's a community hub, where people gather over a shared desire to connect with the land and each other. It's a local resource, where farmers can sell their produce and residents can compost their waste. It's a working vineyard, orchard and garden, where we practice sustainable agriculture.
The vineyard is the oldest part of our farm, inherited from the original Lyons Vineyard. We're currently trialing the Itasca grape variety, which is disease-resistant and produces a Chardonnay-quality wine. We are also transitioning the vineyard to organic management.
Follow our progress on the blog as we graft, prune, tend and harvest the rows. Learn how we're battling the vineyard nemesis, the rose chafer beetle, using sustainable pest control methods.
We're planting several sustainable varieties of fruit and nut trees in our young orchard, including chestnuts, apples, butternuts, heartnuts and pears. We're excited to watch their growth over the next few years, and eagerly await their first yield.
Fruit and nut trees sequester carbon and provide a longlasting source of sustenance for humans and animals alike. Read more on our blog about which varieties we're planting and why.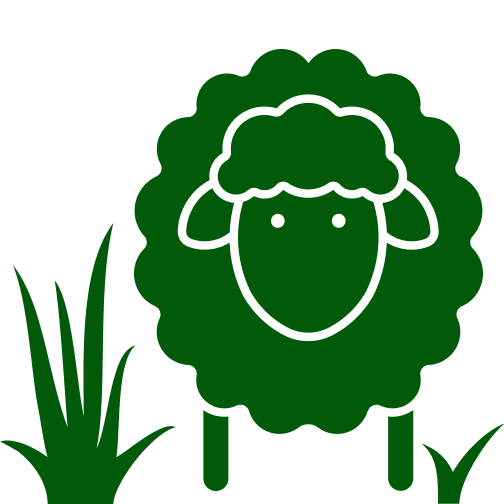 Surrounding our vineyard and orchard are our gardens, greenhouses and trails. The grounds are also home to our hardworking flock of White Dorper sheep, who keep the weeds in check and the soil fertilized. We are working on making our grounds a welcoming destination for visitors who want to picnic, explore, and spend time on the farm.
Read more about the grounds on our blog.