Gathering Ground, a nonprofit dedicated to the education, celebration and practice of regenerative agriculture, is now in its second year on Washington Island. The season got off to a late start; with the April blizzard, GatheringGround had to postpone the Earth Day pruning and planting party until early May. Despite the delay, the 17 volunteers who joined the party were enthusiastic – including Jack, a twenty-year-old Sturgeon Bay resident who rode his bike up to join the party and learn more about grapes.
Gathering Ground is also being joined by other off-Island volunteer groups, including the Fruity Nutty Orchard Club from UW-Milwaukee, a UW-Madison PhD student in horticulture studying grapes, a UW research gardener, as well as 23 seventh graders from the Viroqua area, and our very own Island school students.
These students came all the way from Viroqua, Wisconsin, to lend a hand at Gathering Ground.
This year, Gathering Ground is also starting a six-week internship program. Interns are Lucy Teddy, a sophomore at UW-Milwaukee, studying environmental science and geography; and Nathan, a senior studying biology with a minor in sustainable management and entrepreneurship. The two interns will learn about and help work in the vineyard and also work on a collaborative research project in one o Gathering Ground's areas of interest. They will present their projects at the Gathering Ground potluck and lecture on July 20 at 5:30 p.m.

This season Gathering Ground is once again hosting the farmers market for Island growers, crafters, and makers, starting Saturday, May 26, from 8 a.m. to 12 p.m. To increase accessibility and provide better parking for farmers market attendees, the market will be held on Lake View instead of Airport. Look for the tents and parking area west of Airport Road on Lake View Road. So far, Island Edibles, Island Harvest, Sweet Mountain Farm and Hoot Blossom Farm have signed up as regular vendors. A few crafters will also be joining to sell jewelry and other handmade goods.
Early in the season, growers will have garden starters for sale, microgreens and honey. Gathering Ground will have hand-woven wreaths made from the prunings from the vineyard. Later in the season, market tables will explode with color and variety!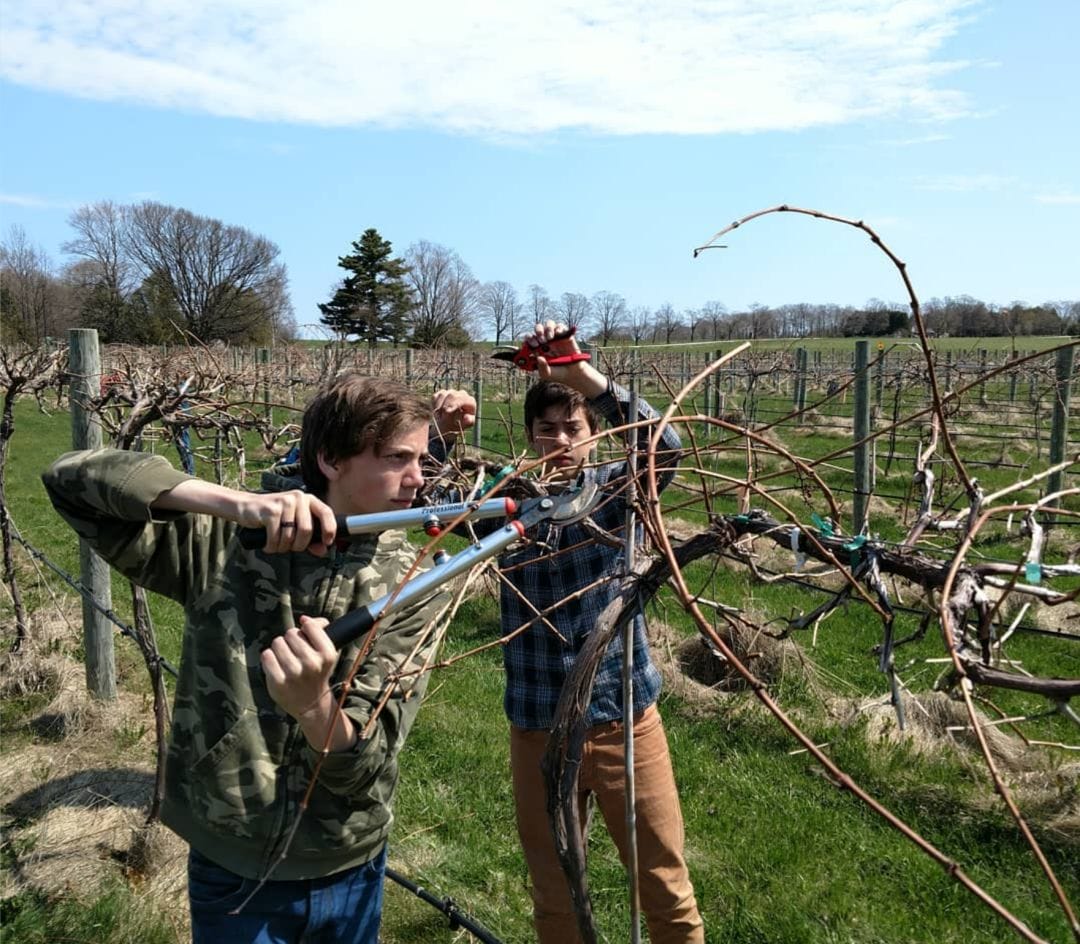 Students helped prune the rows and rows of grapevines at the Gathering Ground vineyard. The vines are being pruned in a specific way that allows for more eco-friendly management.
Gathering Ground executive director Russell Rolffs helps K-12 students plant a new seedling.