By Russell Rolffs.
This article first appeared in the The Washington Island Observer.
Winter evenings are best spent sitting near the stove and dreaming of what to plant in the spring.
The same is true for us at Gathering Ground. Our vision is to develop the grounds into an extensive network of orchards and gardens with a strolling path that roams among them – a sort of edible botanic garden.
Ultimately, we hope the orchards at Gathering Ground will be a community resource, not only by providing fresh produce but also by being a place of beauty and inspiration.
In 2020, we plan to extend our chestnut orchard along Lake View by another acre, for a total of two acres. The first chestnuts were planted in the spring of 2018 at just a foot tall, and a few of those trees reached eight feet by the end of 2019!
Chestnut trees produce edible nuts that can be eaten raw or dried to make flour, and a mature orchard can produce 4,000 pounds per acre. If successful, the trees we are planting now will feed generations of Islanders as the trees are known to live well over one hundred years. While Washington Island is at the northern edge at where chestnuts are typically grown, they have a good shot. Plus, they like the soil at Gathering Ground, so we will continue planting chestnuts in 2020.
In 2019, we also planted several butternut trees. Butternut was once one of the most common understory trees on Washington Island, but it was wiped out by a blight over the last century. Fortunately, a disease resistant strain of butternut was found growing on the Niagara Escarpment in Ontario, Canada, and we are beginning to grow seedlings from this community.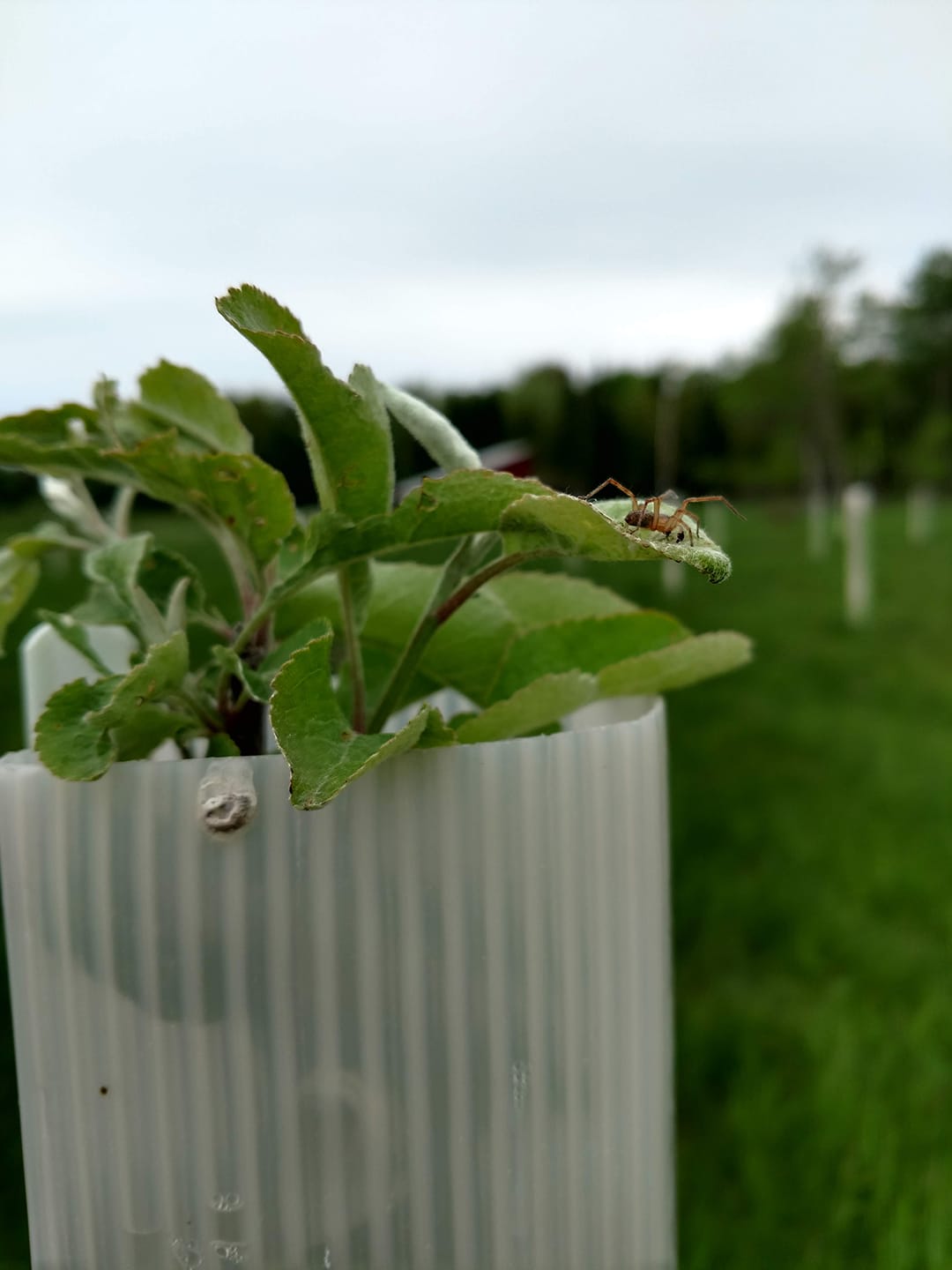 How exciting it is to imagine butternuts once again becoming established on the Island. After all, you know a nut named after butter must be delicious. The nuts are also great for wildlife!
Our apple orchard had a good year. The trees were planted in 2018, and many are already reaching seven feet in height with good branching above their protective tubes.
The orchard consists of heirloom and disease-resistant apples good for fresh eating. When the trees begin to bear fruit, we will observe which thrive here on the Island and then make those available to those interested in growing apples in their own backyard. We are also on the hunt for wild apples growing here on the Island with desirable traits to propagate for the orchard. How cool would it be if the Island produced a new apple cultivar to offer the world? I recommend we call the apple The Islander.
The vineyard continues to battle the rose chafer, a scarab beetle that skeletonizes leaves and eats flower buds, destroying the opportunity for a crop. In 2019, however, we were able to ward off the beetles in the south vineyard to some degree, but given our cool spring, the grapes never got to full ripeness.
Nevertheless, we harvested 500 pounds and we collaborated with Bob Purman at Island Orchard Cider to make some test batches of wine. Cool seasons result in low sugars and high acids in the grapes, so if the wine doesn't turn out, Bob reassures us, we can always make vinegar!
In May 2019, Island youth helped us graft a new variety of grape onto our vines called Itasca. This variety is said to make great wine, and it is much more disease resistant. Itasca is a white grape, and white grapes ripen sooner than red, so a switch to Itasca might also help us produce better grapes.
We also planted 200 blueberries and lingonberries in 2019, and while the plants spent this growing season just getting established and growing their root systems, they seemed to enjoy their new home. Soil tests completed in 2018 indicated that each will thrive in our soil, and with a little fertilizer and TLC, we expect these crops to show considerable growth in 2020.