We are enjoying our fourth summer internship, with a team of six radiant interns. Please stop and say hello. They will be happy to tell you all about what they are learning in our seminars, field work, and field trips! They'd also love to introduce you to the sheep if you haven't met them yet.
Graham
My name is Graham Clute and I am going to be a senior this fall at Loyola University Chicago, studying environmental science. I'm from Crystal Lake, IL, one of the northwest suburbs of Chicago. I've always enjoyed the outdoors and love working outside which is one of the attractions to this internship. Also, I have been going to Door County for many years now. I love to hike, kayak, and ride my bike when I'm not busy with work or school.

Olivia
I'm Olivia and I am happily joining the Gathering Ground 2021 team! I am a current community college student unsure of what to study. My passion for the earth, my love for travel, and eagerness to learn more is why I decided to apply for this internship. I'm a Pennsylvania resident and a first time visitor to Washington Island (and I am already loving it here). Along with my Gathering Ground internship, I am also working with bees at Sweet Mountain Farms.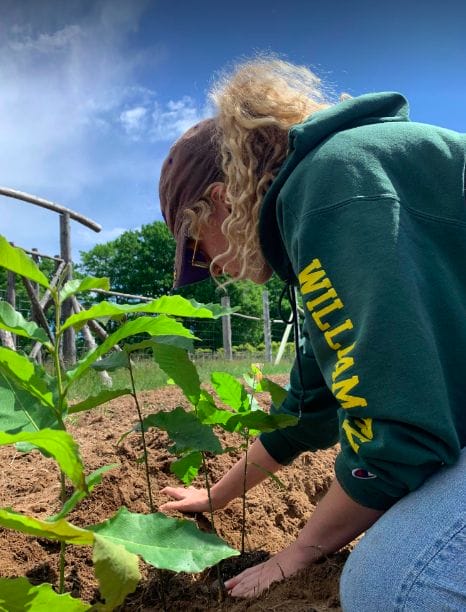 Maggie
Hello! My name is Maggie and I want to be a sustainable farmer in the future. Growing up I had the opportunity to move all around the world where I immersed myself in the outdoors and different cultures. I enjoy spending my time searching for new places to explore. While taking time off from school I have been learning more about the future of farming and the importance of saving our soil. I'm thrilled to be a part of the Gathering Grounds Team this summer!