Tales from the Gathering Ground Community Garden  
by Rachel Schwandt
"Be part of a Community Garden," they said.  "It will be fun!," they said.  "You'll meet lots of people, and learn about gardening and have lots to harvest," they said. But what they didn't say was that I was going to fall in love with being in the stillness and beauty of the Gathering Ground Garden this past summer.
This year was the launch of a new Community Garden program offered at Gathering Ground. It is a community with the purpose of gathering folks to plant, weed, harvest and share the bounty with the gardeners as well as the community of Washington Island.  We share our time together with a common enjoyment of being outside, working the soil, and sharing in the harvest of a communal plot, not individual plots.  We generally have met on Thursdays at 9:00 a.m. to check on our crops, see what needed to be done and discuss how things are going.  The summer interns became our partners and their enthusiasm was contagious!
Our first harvest of lettuce was so bountiful that we could offer it to a non-profit organization that prepares meals for clients.  We were thrilled to share our bounty with friends as well as provide for our own families.  Not everyone could participate on a regular basis.  No problem!  We had a drop-in-when-you-can and lend-a-hand policy.  If others wanted, they could leave a donation for seeds and plants for next year in exchange for some of the bounty.
Things that a novice gardener like me learned from the Community Garden:
1. There is a seed collection (called a Seed Library )in almost every library in the US.  We were able to gather seeds from donations, the library and some from my friends from MN who sent me here with multiple seeds that they'd harvested from their own gardens.  When I look at the amazing results from just seeds, sunlight  and water, I am so amazed! Yes, Hoot Blossom donated seeds or seedlings; but overall, the bounty is from seeds.
2. I really didn't know as much as I thought I did going in!  There is a proper way to harvest certain crops to keep them producing more.
3. The potato crop planted by the students from the school has done well despite the various pests.  Russel from Gathering Ground experimented with a few different varieties to see which plant is more resistant to those pesky beetles.  They will be able to harvest their efforts this fall as well as share in the squash harvest.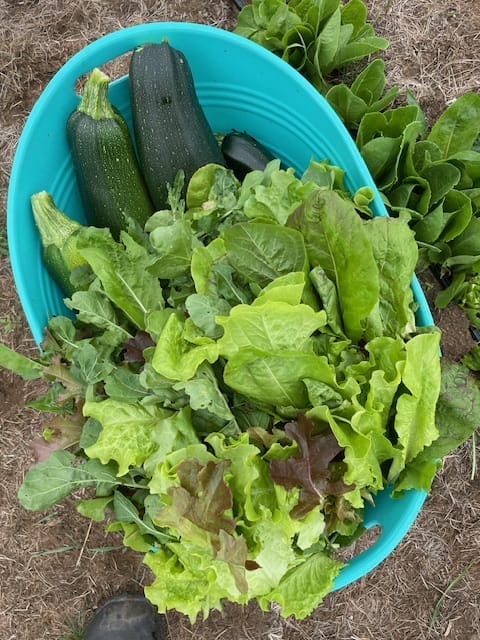 4. So many folks on the island have their own garden plots and prefer to grow their own produce.  But there are many more who do not have the right soil or sunlight or TIME with seasonal businesses to garden.  The Community Garden offered me an opportunity to enjoy the fruits of a shared labor so that it wasn't so overwhelming, and perhaps it can offer that to others next year.  This is not a replacement for the stores or Farmer's Market…it is more of a joyous experience!
"Would you do it again?"  they asked.  "Were you able to enjoy the fruits of your labor?" they asked.  First answer would be YES in a heartbeat.  The second, I have really enjoyed the fresh produce, even though I will miss some of the fall harvesting as I return home.  It was all very much worth it!  We hope you'll consider joining us with the Community Garden next year. 
Watch for notices next Spring when you are itching to get into the dirt!